Power Solutions!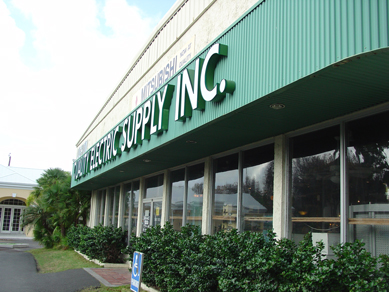 We're sensitive in the VI to power issues.  Not only do we have high WAPA rates, erratic voltage spikes and frequent or extended outages, we have a moist and salty atmosphere that leads to corrosion issues on electrical devices.  That means we need reliable, affordable, energy efficient solutions.
Fortunately, there's one business in the VI that deals every day with solutions to almost all power related issues.  Quality Electric Supply in Peters Rest, St Croix, has provided them since 1986 to all three islands.  With two degreed electrical engineers on staff, and over a hundred years of combined industry experience on St Croix, Quality Electric is uniquely qualified to provide power solutions for your home or business.
Air Conditioning
Cool air in the summer comes at a price.  And Virgin Islanders are more attuned to energy savings than anyone!  That's why Quality Electric has been the exclusive distributor for Mitsubishi A/C for the last five years.  Nobody makes a better, more energy-efficient air conditioning system than Mitsubishi, whether it's a mini-split for your bedroom, or a central air system for an office complex.
Invite Quality's AC staff to show you how quickly you'll get a payback in energy savings when you install Mitsubishi.
Voltage & Surge protection
Most people already know they need surge protection for their electronics – TV's, stereos and computers.  But what about the rest of your house?  Did you know that surges shorten light bulb life? Did you know that under & over voltage can kill your refrigerator or freezer?  That's why Quality Electric provides engineering solutions using well-known Ditek whole house surge suppression, motor protection and line conditioning devices.
Lighting
Quality Electric has the largest lighting showroom in the Virgin Islands, full of lighting products designed for OUR environment  -- corrosion resistance, durability, and energy efficiency.  You can go to a "big box" store and buy cheap light fixtures – but you'll likely be replacing them in a few years.
Why not do it right the first time?  Customers say repeatedly that not only were they pleased with the selection, but pleasantly surprised to find pricing competitive with stateside stores. 
General Electrical
Of course, that was the start of it all.  The company has the largest inventory in the VI of name brand conduit, wire, panels & circuit breakers, bulbs and wiring devices.  If you need it, chances are you'll find it in stock at Quality.
Contractor needs
Contractors on all three islands needing job lot quantities of electrical materials have known for years that they can save on commercial projects by placing bulk orders with Carribean Supply Company, Quality's sister company, a Florida export wholesaler. 
And they have the convenience of dealing with expert local folks at Quality Electric, while still getting stateside export pricing FOB Miami.
If your home or business uses electricity (and whose doesn't?), you should stop by Quality Electric and see what they can do for you!

The readers of the Daily News voted for Quality Electric Supply's Retail Division as Best Energy Efficient Lighting & Products of the Virgin Islands on St. Croix, Best Electrical Supplies of the Virgin Islands on St. Croix, and Best Generator Sales, Service & Repair of the Virgin Islands on St. Croix in 2012.
 Click here to enjoy our new radio ad!  (mp3)
In today's retail environment, you need to know your products and our retail-sales support personnel do. They can assist you in fulfilling of all of your electrical and HVAC needs. At Quality Electric Supply we value our relationships with our clients. We are committed to the development of long-term partnerships based on mutual trust to deliver quality products and to satisfy the needs of our customers at a price and quality that makes us their preferred supplier.