Quality Electric Supply, Inc. is a leading supplier of electrical equipment and products in the Caribbean.  Located in Peters Rest, St. Croix, U.S. Virgin Islands, QES has 20,000 square feet of warehouse, a large retail showroom, and a staff of lighting experts.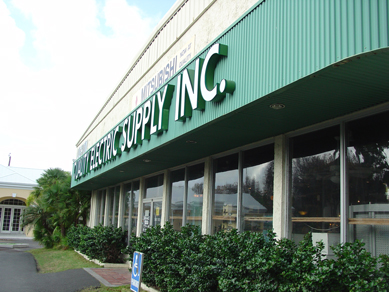 QES has been serving the electrical supply needs across the Caribbean and beyond for 25 years.  Named 2011 St. Croix Chamber of Commerce Business of the Year, QES has added Solar PV inverters, PV wire, combiner boxes, and rack systems to its 17,000 line items of inventory in its 22,500 square foot showroom and warehouse on St. Croix - everything from wire, conduit, cable, tools, fittings, lighting, bulbs/LEDs, fans, meters, transformers, breakers, loadcenters, disconnects, relays, sensors, VFDs, generators, transfer switches, power meters, mini-split and multi-zone HVAC, and heat pump water heaters.  QES ships all over the USVI, BVI and beyond.
In 2008, the Engineering & Technology Department was formed to expand QES' product offerings and technical resources. Today, our electrical engineers integrate energy-saving solutions with energy-efficient lighting, lighting controls, air conditioning, power generation, power quality, water management and building automation in residential, commercial and industrial applications (new or retrofit).
As an active member of the Energy Development in Island Nations (EDIN-USVI) Energy Efficiency Working Group, Quality Electric is a territory-wide leader in advancing the aggressive goal of 60% reduction in fossil-fuel derived energy consumption in the US Virgin Islands by 2025. Quality Electric Supply is the first company to be named an official Partner in the EDIN-USVI initiative.
HISTORY
Quality Electric Supply began life as Triumpho Electric in 1960 as a small retail store in Gallows Bay, St Croix. In the mid 1980's, Jim Triumpho's nephew, Karl Bauknight, purchased the wholesale/retail St Croix operation of Triumpho Electric, and renamed it Quality Electric Supply, Inc.
Hurricane Hugo in 1989 left the business mostly intact, with some structural damage to the facility. The company was open for business three days after the storm. Nine months after the hurricane, a fire burned the newly-repaired facility to the ground. New plans were drawn up for a first-class facility to supply electrical materials to the entire Virgin Islands, including 20,000 square feet of warehouse space, a spacious lighting showroom, and offices to support the next stage of growth.
Quality Electric Supply opened its existing facility in 1991. The company has consistently added new and innovative products in the electrical field, and broadened into distribution of Cummins-Onan power generation equipment, Mitsubishi Electric Air Conditioning units, and other products to serve the Caribbean markets. Keeping abreast of a constantly changing market, three degreed engineers were added to the staff and Quality Electric became known as more than simply selling products, but also selling solutions. Quality Electric and sister company, Caribbean Supply ship regularly to customers across the United States and British Virgin Islands.