It's no surprise that readers of the Daily News voted Quality Electric Supply, Inc. The Best Light Bulbs and Fixtures on St. Croix for 2009, 2010, and 2011, and The Best Energy Efficient Lighting & Products of the Virgin Islands on St. Croix in 2012. With the wide range of lighting products, especially energy-efficient light bulbs, we supply all of the Virgin Islands.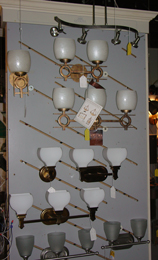 As one of the top Caribbean Lighting Centers, our selection of bulbs covers everything from basic incandescent to HID to the most eco-friendly and energy-efficient selections available.  Our electrical experts can assist you in selecting the most appropriate bulb for your application.  Our green electrical solutions include a full offering of the latest generation Compact Fluorescents as well as the only ETL-rated LED T8 replacement tube on the market!  These are the most eco-friendly products out there offering the most energy savings.  And when these solutions don't match your needs, don't worry, we have a wide variety of HID, Halogen, PARs, Floods, and track lighting.

From our Designer Lighting to Industrial applications, we have the bulbs you need.  Together we can design, select and assist in implementing the best lighting solution for your specific needs.